Since 2008, I've been offering free hugs and witnessing their profound impact on both myself and others. This led me to establish a global hug weekend with the goal of spreading a million hugs worldwide. Why? Just imagine a world where people feel seen, heard, and connected. Offering a hug is a simple yet powerful way to create a positive change in someone's life, including your own.
Below, you'll find inspiring stories of our 2023 journey towards one million hugs. Whether it's a single meaningful embrace or a gathering of 60 hugs at an event, absorb these stories and feel embraced as you read them.
Sending you big ((HUGS)) and lots of LOVE,
CC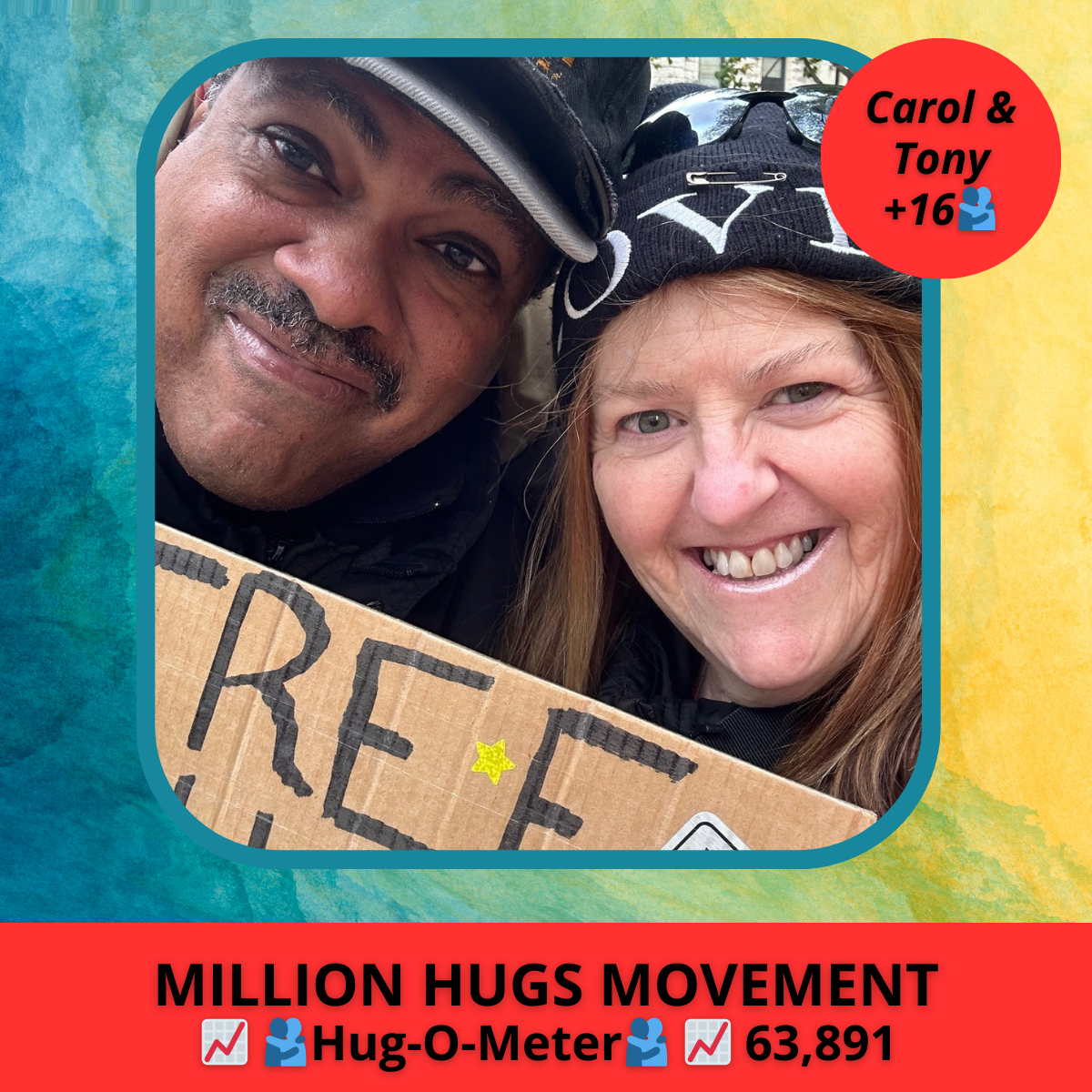 Tony and yours truly spreading LOVE and kindness today. 💑❤️ We gave out 16 hugs! 🤗🤗 Many more smiles were exchanged along the way. 😊😊
My mission isn't just about giving hugs; it's about sharing LOVE. 🌟 As I greet people and wish them a wonderful day, I'm also sending them LOVE from the heart. 💞 Locking eyes for a fleeting moment and sharing a smile can be incredibly impactful. 😄💖
Sending an abundance of LOVE and warm hugs to all who need it. 🤗💕
📈 🫂Our Hug-O-Meter is🫂 📈: 63,891
📈 🫂Our Hug-O-Meter is🫂 📈 on the rise, now counting 63,875 hugs, all thanks to Paula's generous 169 hugs given on a lovely Saturday at Ojai Days!🫂 🌟
Paula was sharing LOVE and peace with the Center of Spiritual Living – Ojai.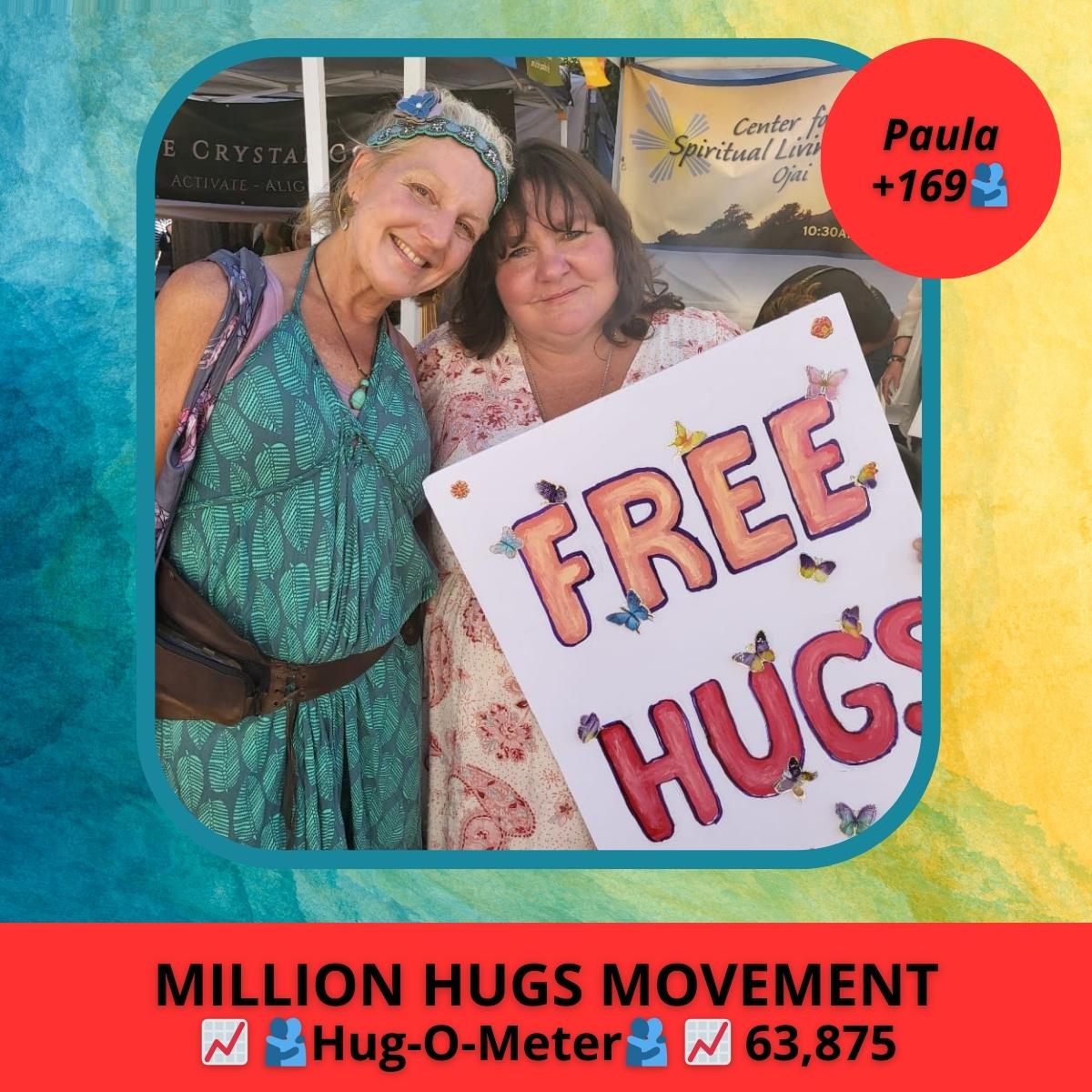 Thank you Cindy for continuing to spread LOVE and kindness with our Million Hugs Movement. Cindy shared 40 hugs in Kelowna, BC during Canada's Thanksgiving day. From Cindy – The sun was shining and a beautiful soul was singing classic songs. It was one of my favourite moments so far in my hugging journey 😀.
From me – I am so grateful to have Cindy as part of the Global Hug Team. One of my favorite hug memories was hugging with her in Niagara Falls in 2019.
HUG-O-METER: 63,031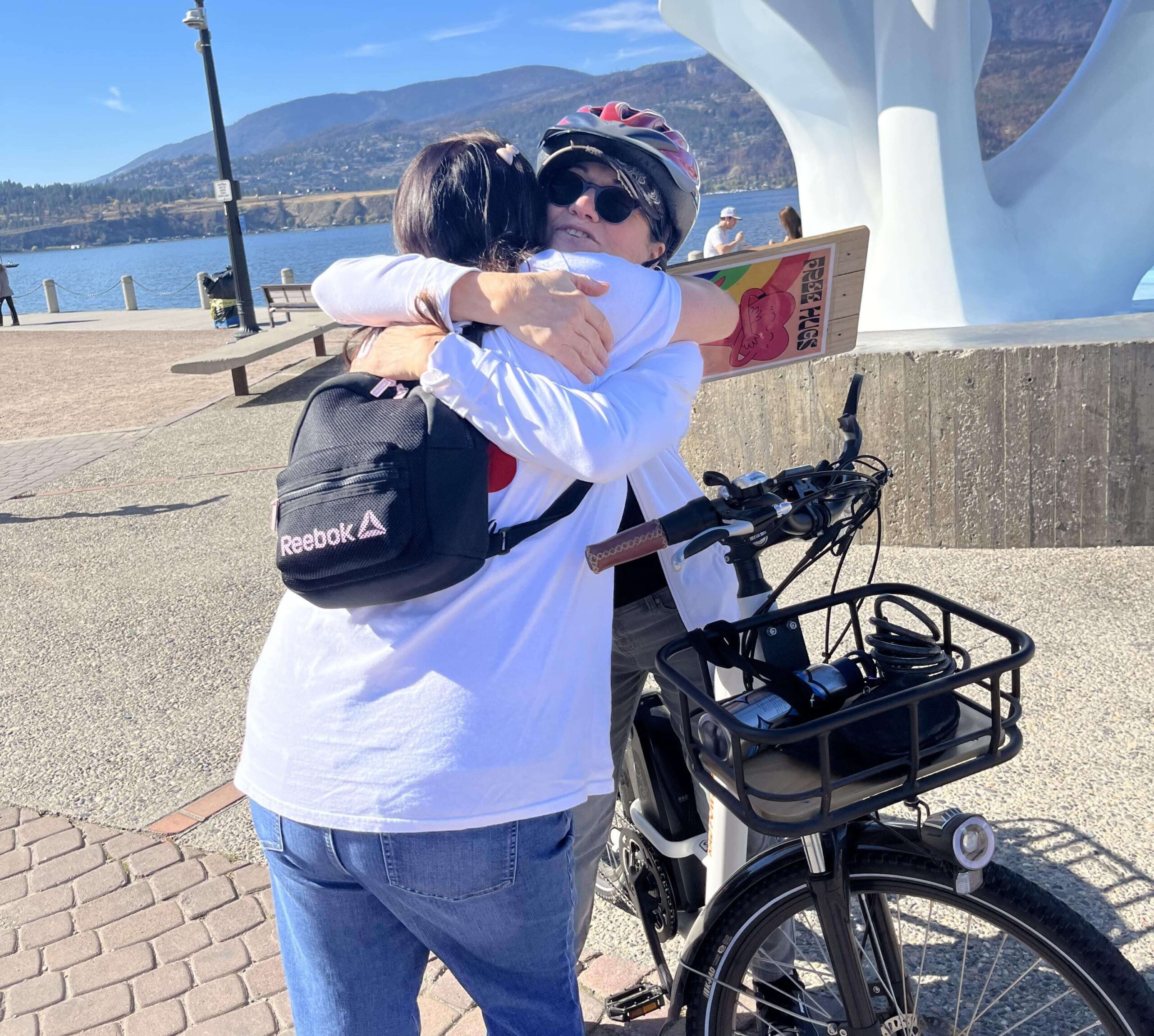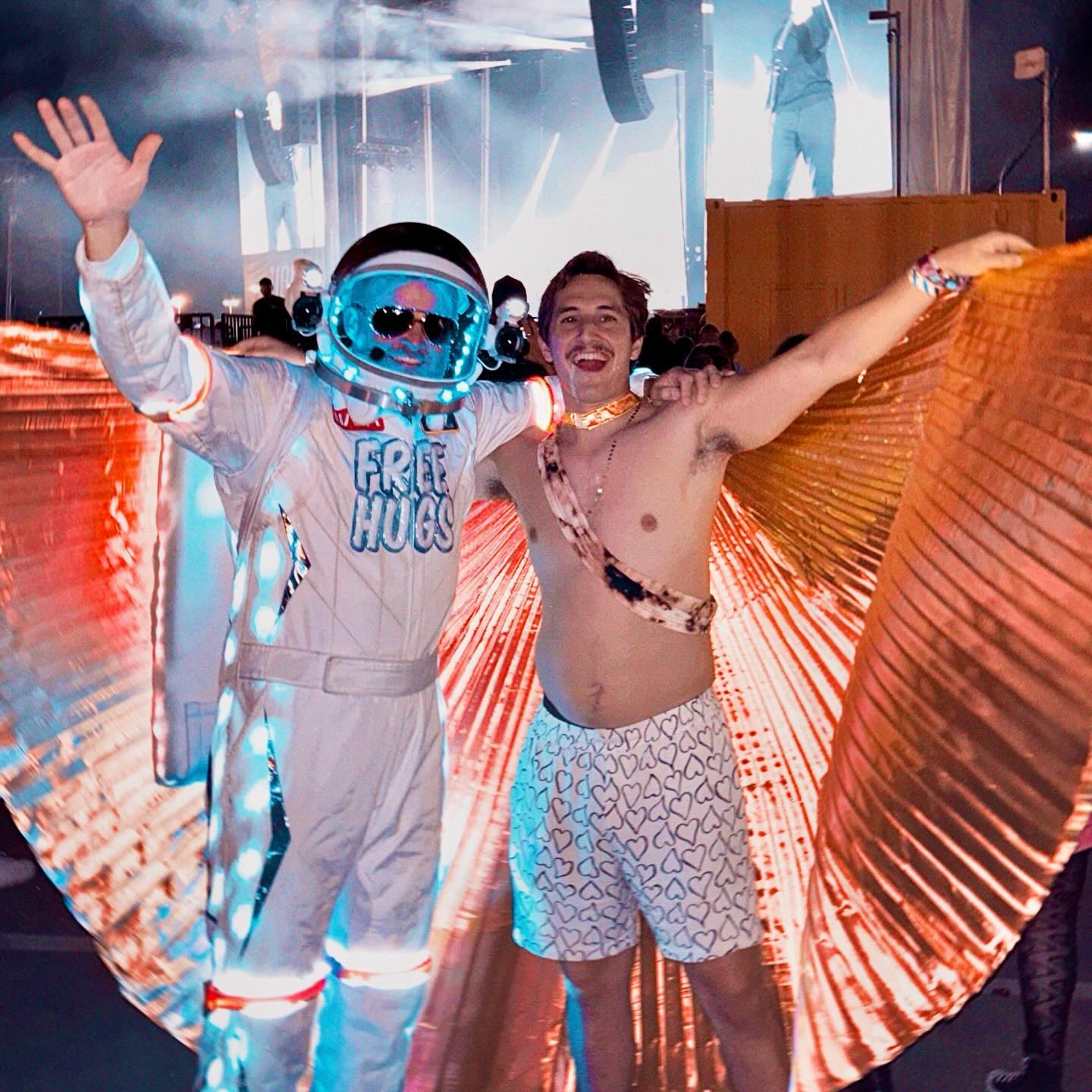 Sept. 22 – 24: 🎉 Marty just added 300 more hugs into our 1 Million Hugs movement at the Life Is Beautiful music festival in Las Vegas! 🤗🎶
From Marty: 🦸‍♂️ This fantastic guy won this cape costume at a Meow Wolf bingo game, right in the heart of the Life Is Beautiful festival in downtown Las Vegas. Then, he grooved over to a stage and received a warm hug from an astronaut. Life… is… absolutely beautiful! 🚀💃
Our hug-o-meter now stands at a whopping 62,991! 🤩 Let's keep spreading the love! ❤️ #LifeIsBeautiful #HugsMovement 
Sept. 9: I'm not quite sure if it was the beautiful weather 🌞, the joyful bubbles 🎈, or simply Tony and me being irresistibly huggable 🫂, but the atmosphere was festive as we exchanged 41 hugs 🫂🫂, bringing our hug-o-meter to 62,691 embraces 📈🫂! We also shared air hugs, thank yous, and smiles 😄.
A man was blowing bubbles in the park, bringing the crowd more smiles and happiness. I'm sure bubbles heighten celebrations and lessen sorrows – pure magic 🪄❤️.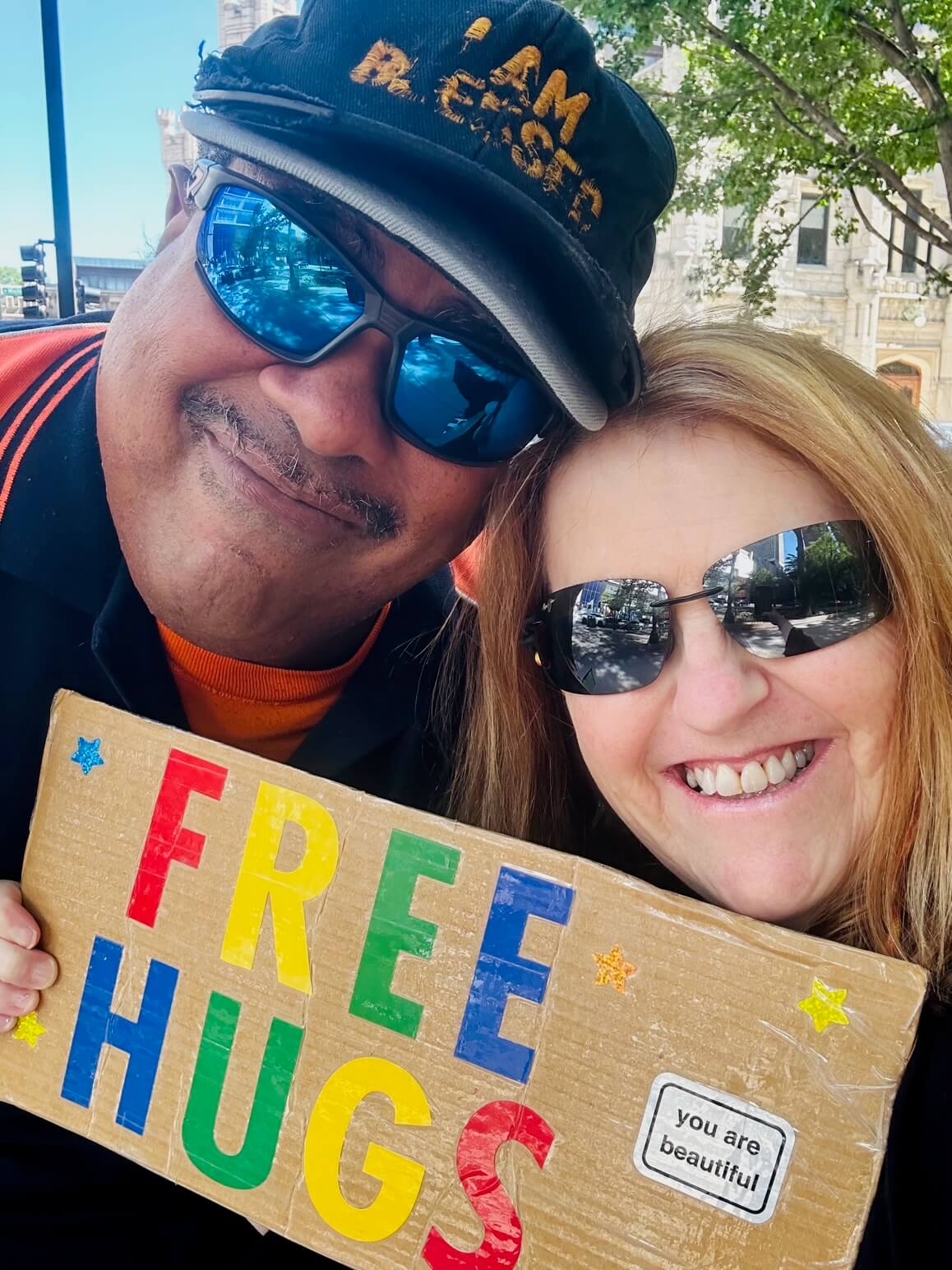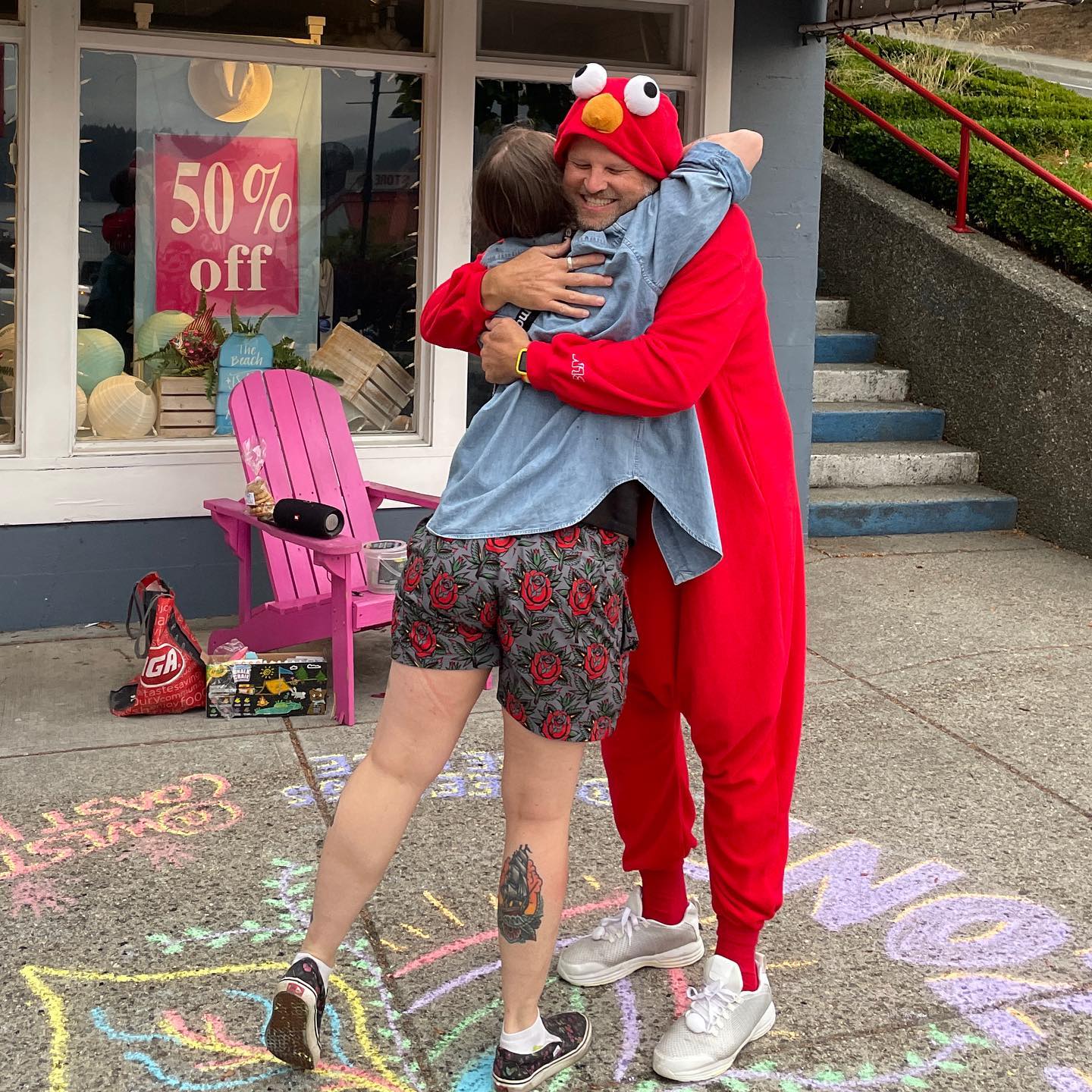 🫂🌏Hugs will travel. Marty and the team added 50 more hugs to our Million Hugs Movement as he traveled to the Sunshine Coast! First, the giant balloon 🎈 went on its first-ever ferry ride with hugs from the ticket booth guy, some passengers, and the security guy. Next was joining forces with @westcoasthugs to construct an incredible hug zone so powerful people fell out of the sky for hugs!
Our Hug-O-Meter stands at 62,500 embraces. 🙌🤟
Marty & Wendy just added 20 more hugs 🤗🤗 for our  #MillionHugsMovement at the Vancouver Bike Rave! 🚴‍♀️🎉
I can't believe I've never been to Vancouver, but now it's definitely on my #CreatingMemories list!
🌆 Follow Marty's heartwarming journey full of hugs and smiles at Hugs Are Nice page on Facebook and Instagram. 🤗💕
Our Hug-O-Meter stands at 62,600 embraces.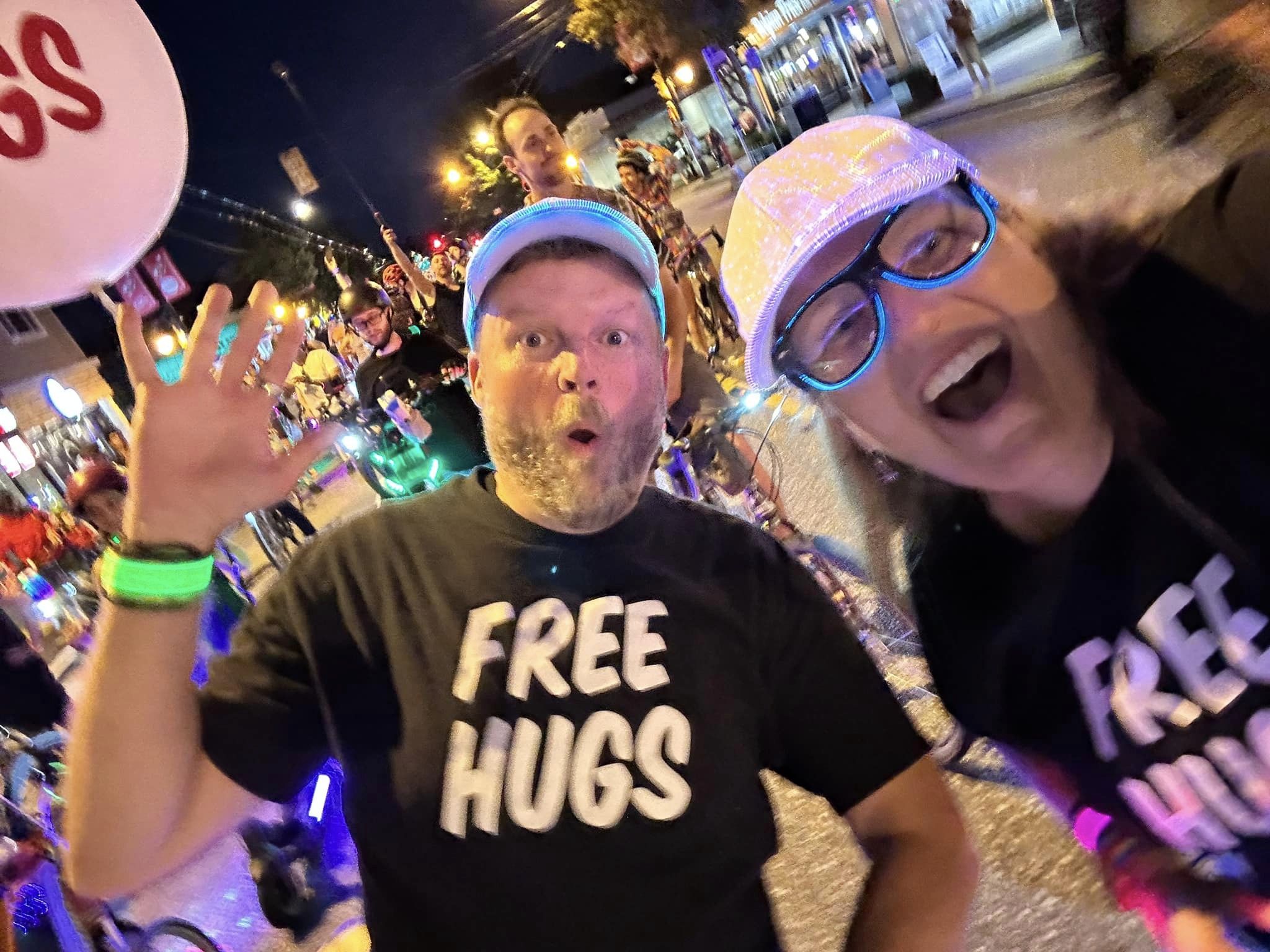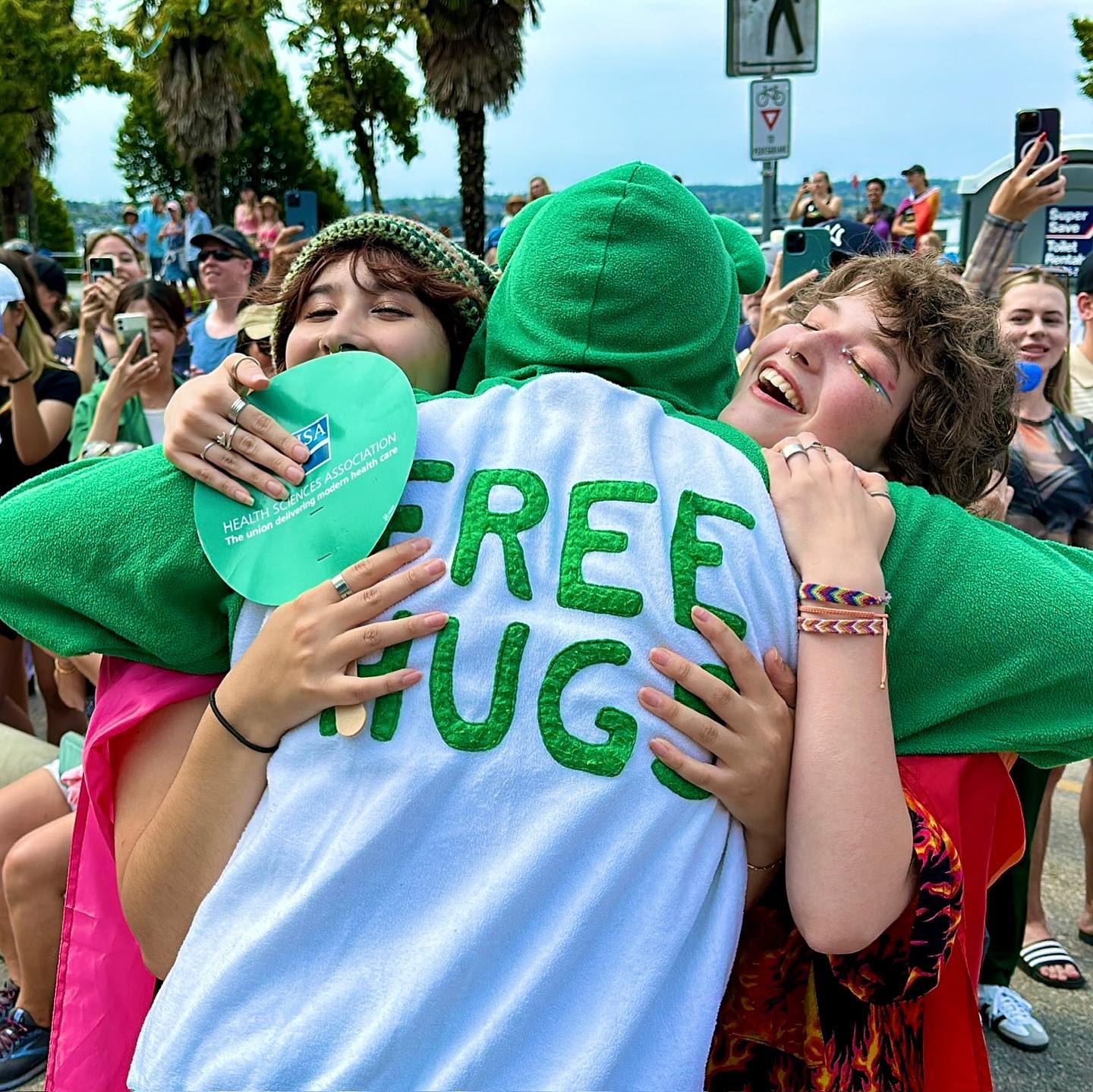 August 6, 2023 – Marty Beckers and friends continue to spread LOVE and kindness with hundreds of hugs in our #MillionHugsMovement! 🌈🎉
Marty and his team embraced 970 kind souls during Vancouver's Pride Parade, sharing LOVE and acceptance. ️‍🌈✨
Our hug-o-meter stands at an incredible 62,580 embraces. 🎈
July 2023: Big shoutout to
Paula
for spreading LOVE and kindness!
Her incredible contribution of
125 hugs
at a peace fundraising event for The Center of Spiritual Living in Ojai, CA, has pushed us closer to our 1 Million Hug movement!
With Paula's support, we've now shared a whopping 61,610 hugs, touching lives and making the world a more compassionate place.
Let's continue to make people feel seen, heard, and cherished in this beautiful and messy world.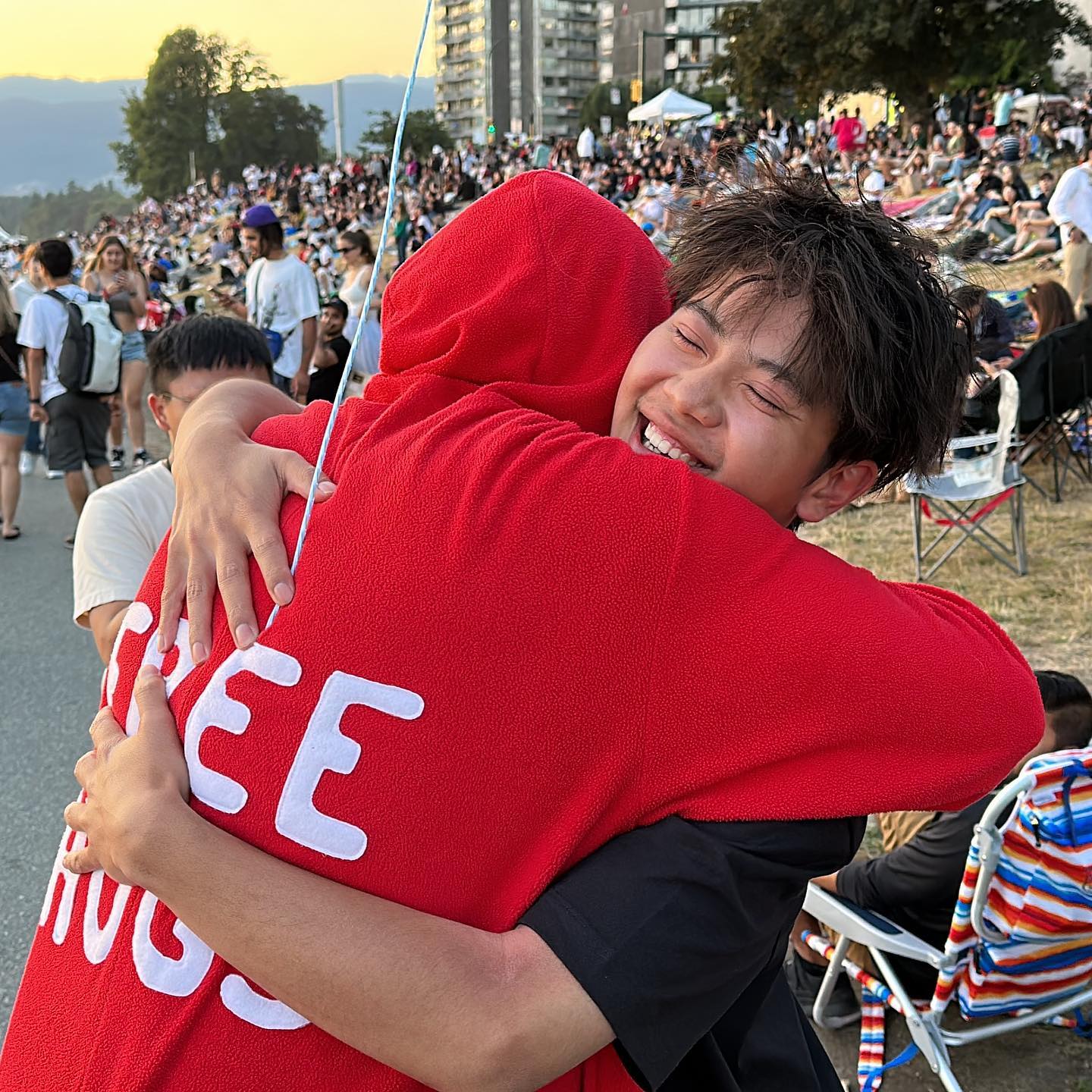 Marty added 5,250 hugs to our #MillionHugMission in Vancouver during the Honda Celebration of Light event!
This incredible contribution brings our total to a whopping 61,485 hugs worldwide!
Let's keep spreading love and warmth one hug at a time!
#hugs #freehugs #SpreadLove #globalhugs Hugs are nice
🌍🤗🎉Loretta joined the #GlobalHugTeam in 2009! 🤗💕 From Key West to New Orleans, Croatia (with me 😄), and El Salvador, she's been spreading LOVE through hugs! And now, in beautiful Edinburgh, Scotland, Loretta has added a whopping 126 hugs to our count! 🏴󠁧󠁢󠁳󠁣󠁴󠁿🤗💖 #HugLife #SpreadLove #HugAroundTheWorld
From Loretta – I hugged people from all over the world, old people, children, and of course even pups! I met a nice young photographer from India who help me capture a couple snapshots. I also met and hugged a lovely woman from Ukraine and we've already become friends! Until you have stood there, vulnerable, and hugged strangers, it is hard to describe how powerful an experience it is. Once you start, it's hard to stop, but after about an hour the energy exchange is so great that it's time to take a break. A magical hugging experience to be sure.
Add another 126 hugs to your march to One Million Hugs, Carol. I know we will get there.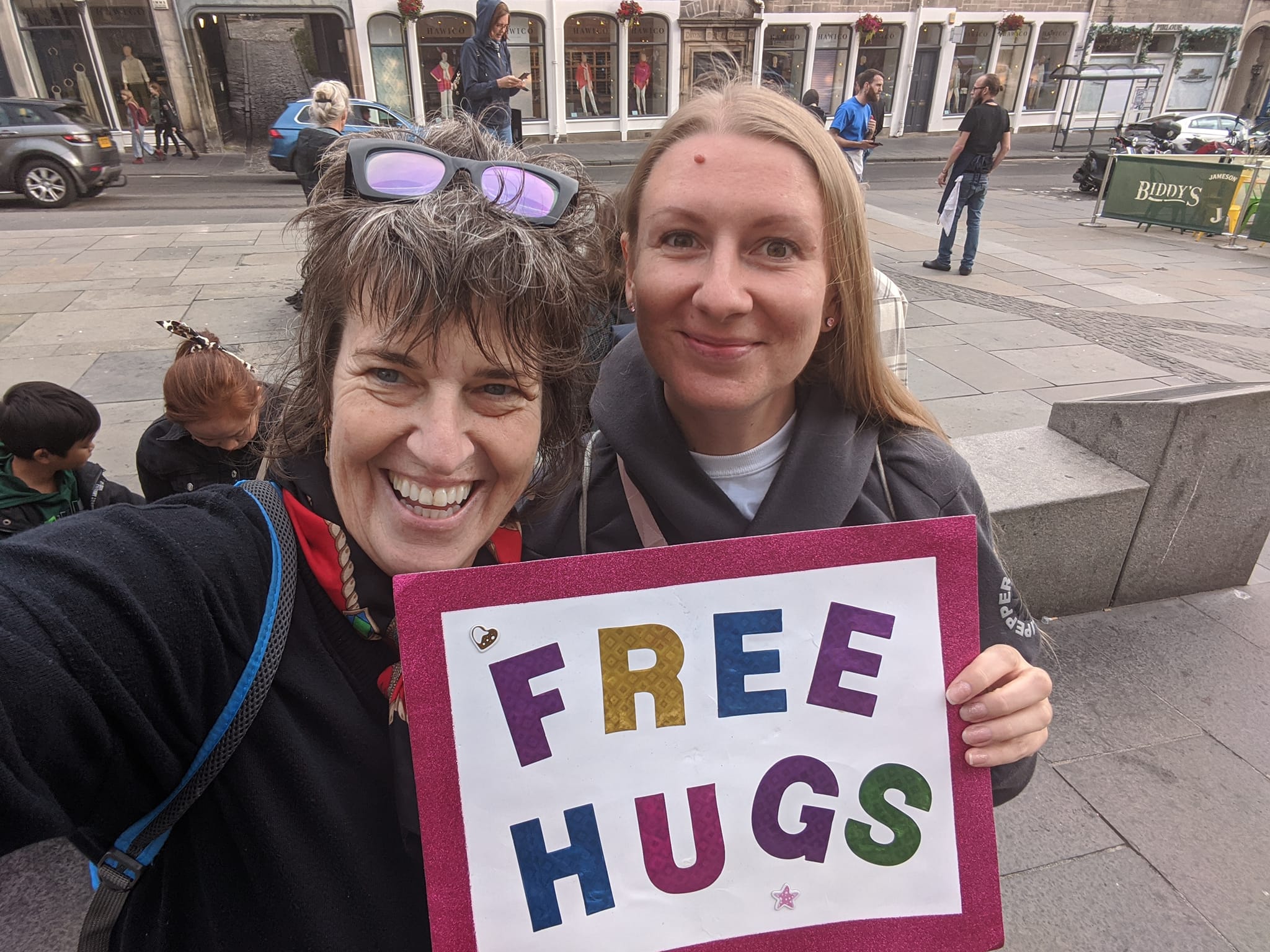 🎉 Paula just 📈 added another 40 hugs 🤗 to our #MillionHugsMovement during a BBW (big beautiful women) Las Vegas empowerment event! 💪💕 Together, we're spreading love and positivity! Join us! #HugsForAll #EmpowermentEvent #LoveLasVegas 💖🌟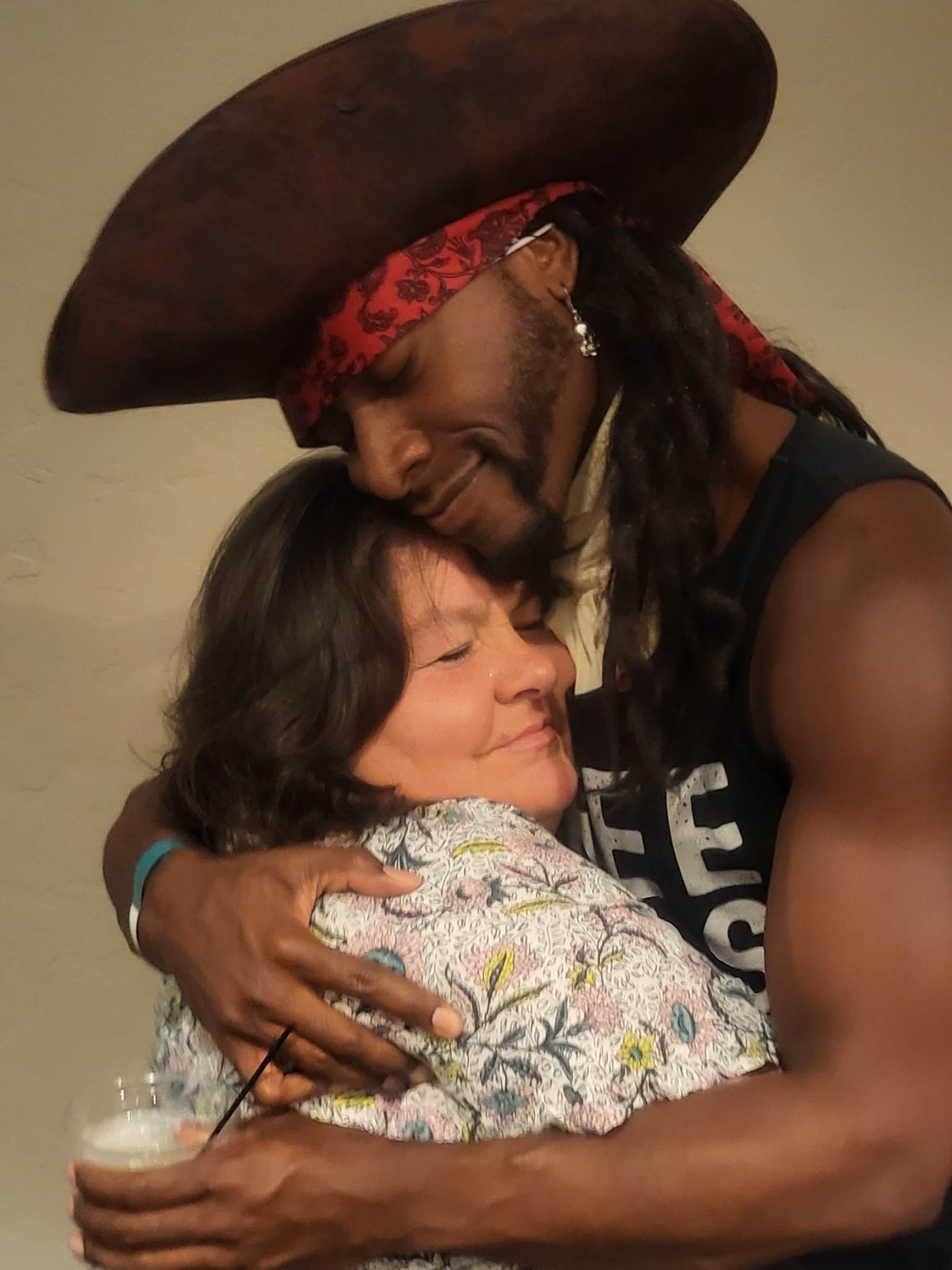 Paula
and Charles just added
more hugs toward our
#MillionHugsMission
! On Friday, they rocked Freemont Street in Las Vegas with hugs and big hearts.
Why
#FreeHugs
, you ask? Because it's all about spreading
LOVE
and kindness, one hug at a time!
Marty, Gabriel, and their incredible squad 🤗💕 gave and received a whopping 2,500 hugs at the Khatsahlano Street Party! They rocked it with their unlimited LOVE and kindness, taking our 1 million hug mission to new heights! 🙌🌟 Join the hugvolution and let's spread the love! #HugSquadGoals #KhatsahlanoStreetParty #UnlimitedHugs #LoveAndKindness #MissionAccomplished 
CLICK HERE to see more hug of their hug pictures.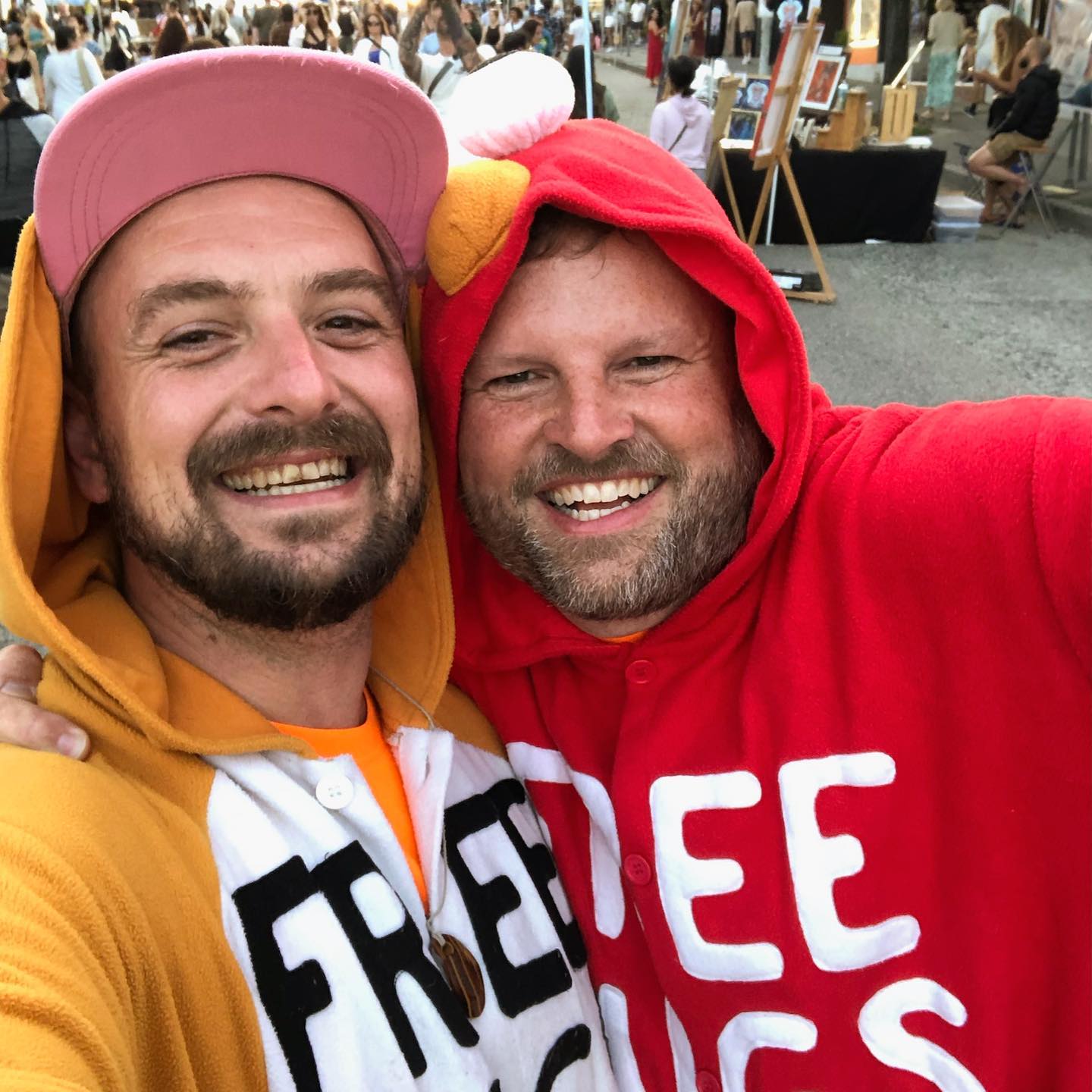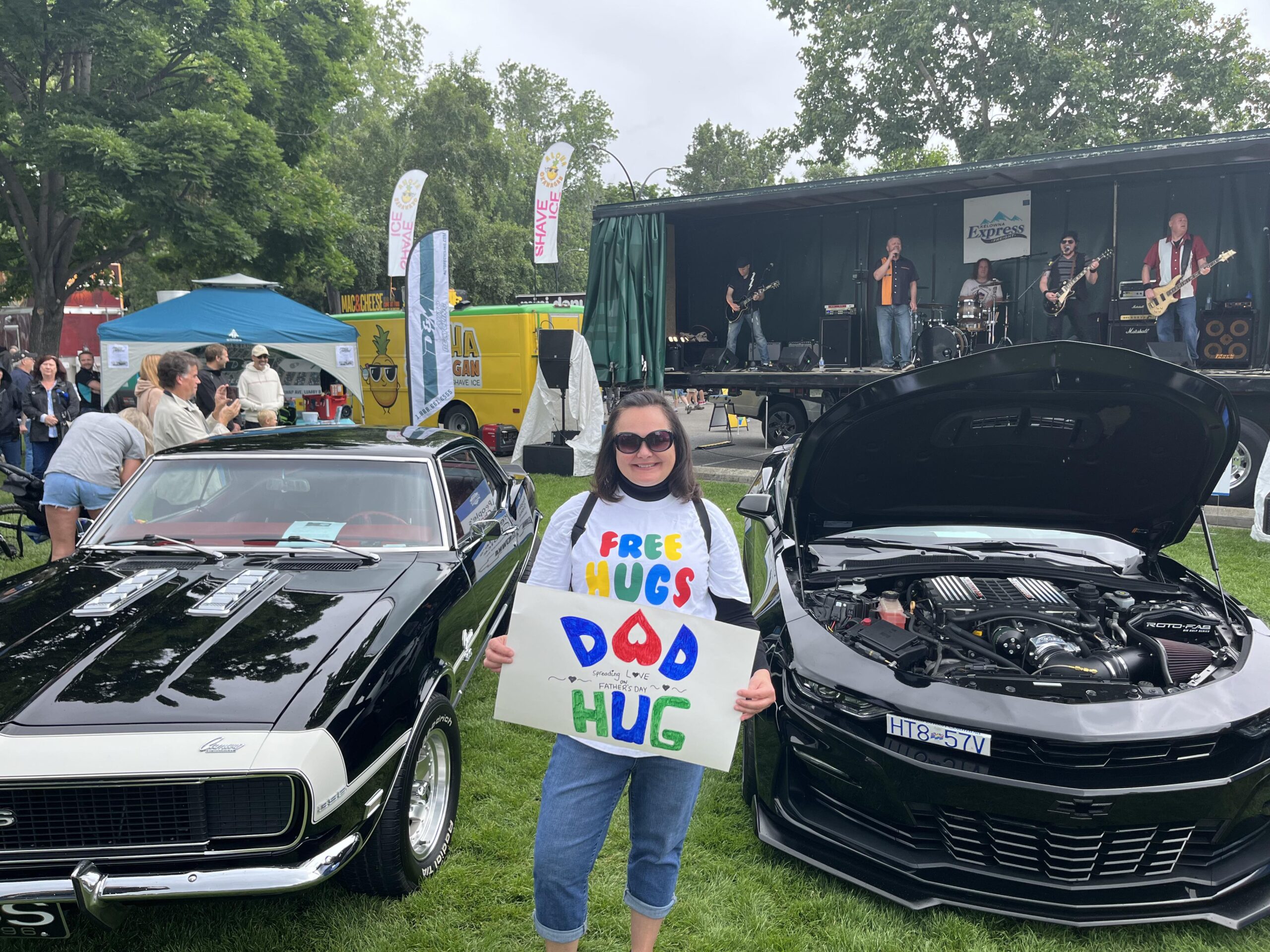 June 16, 2023 : Father's Day Hugs
Thanks to Cindy, 25 people received hugs at the June 16th car show in Kelowna, BC.
 Our huggers have now shared a total of 53,469 hugs! Let's keep the love flowing!
CLICK HERE and you too can become a Global Hug Ambassador.
June 10, 2023 – Pride Hugs
🌈🤗 Cindy continues to spread LOVE and kindness in this beautiful and messy world on hug at a time. 😍🌍
📈🤗 Cindy's incredible efforts have added 40 more warm hugs to our grand mission of reaching 1 million hugs worldwide as she offered Pride hugs in Kelowna, BC!
Our huggers have now shared a total of 53,434 hugs! Let's keep the love flowing! 💪❤️
CLICK HERE and you too can become a Global Hug Ambassador.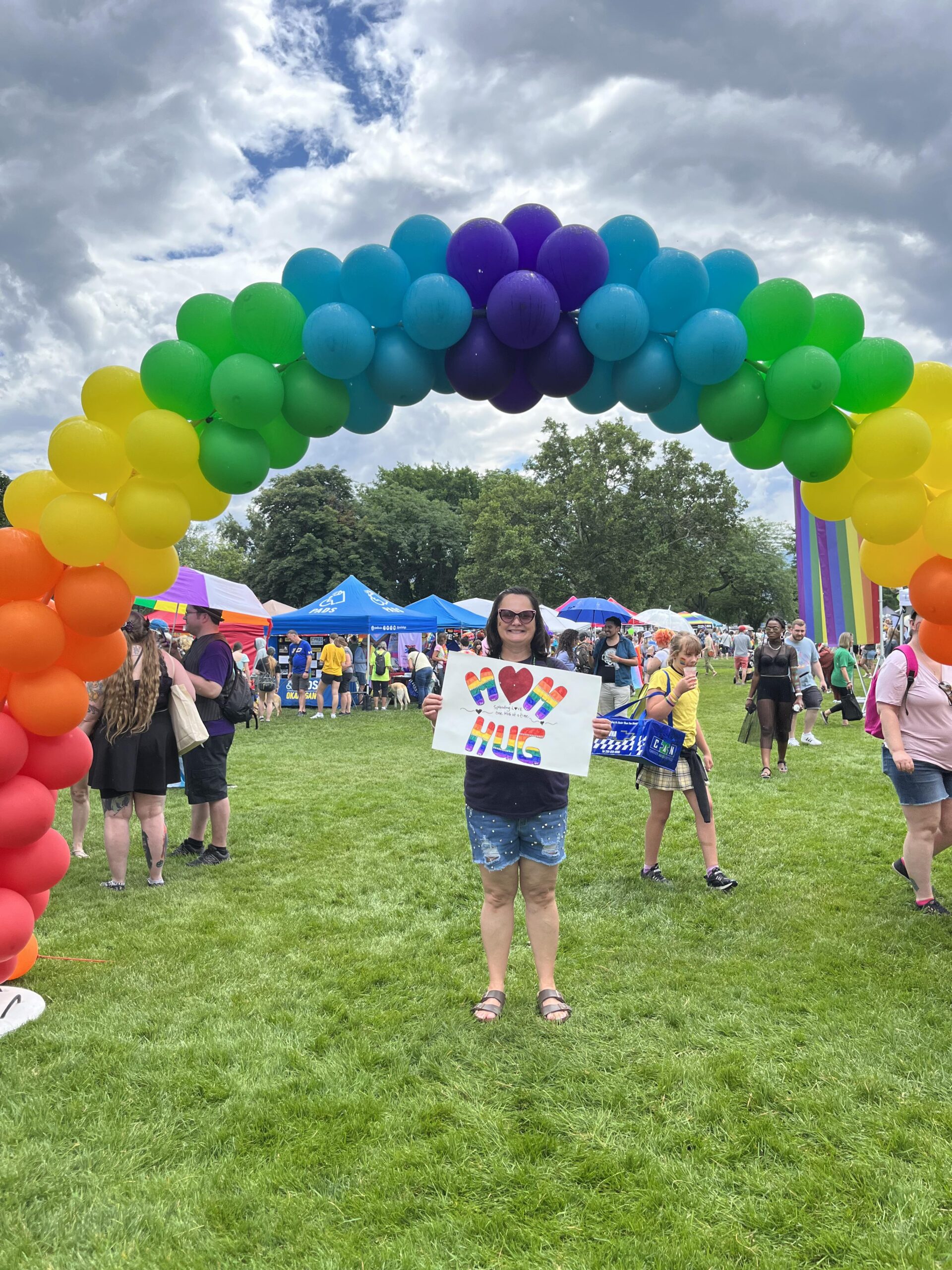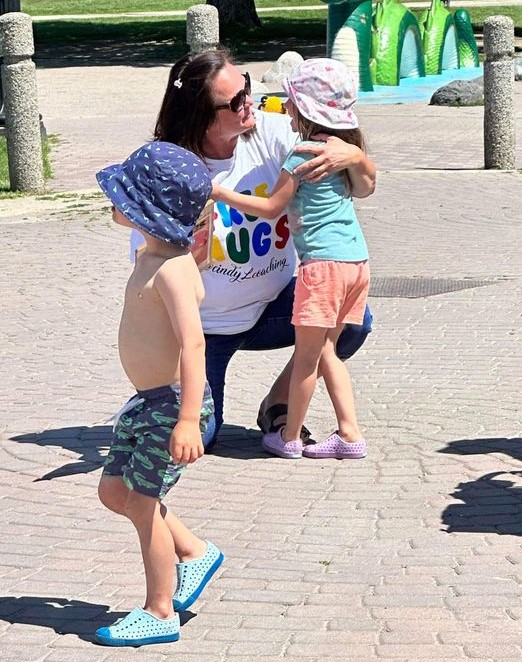 June 3, 2023
Thanks to Cindy, 81 more hugs have been added to our one million hug mission. It brings our total to 53,404.
Her experience: Kelowna was hesitant to hug at first, but many people walked/rode by a few times and they began to open up. One server from a nearby restaurant was watching and ran down on her break for 2 hugs. I hugged adults, kids, and dogs today, and we could feel the vibration raise. Many people thanked me, and some said they would be back next month for another hug. I really missed hugging and I could tell I wasn't the only one.
May 18 – You Can Do it Conference
Paula gave and received 60 hugs at the You Can Do it Converence in Tampa, FL.
May 2023 – Global Hugs Weekend
🌍🤗 Tennessee Graduation – Thank YOU, Paula, for joining us during #GlobalHugsWeekend and adding 60 more hugs to the 1 million hug count! 🎉👏 And congrats to the graduates!! 🎓🎉 #SpreadLove #GlobalHugs  #LoveInAction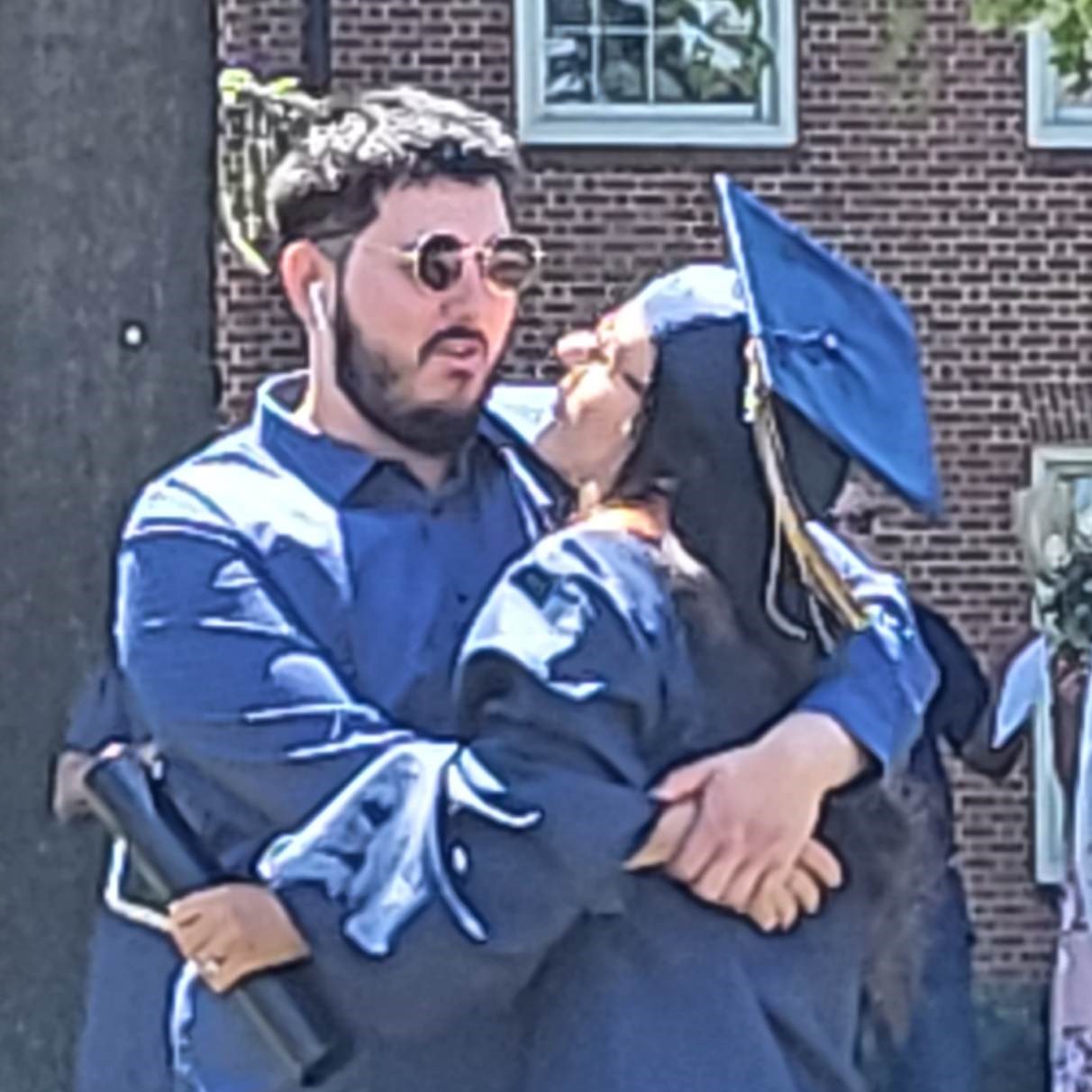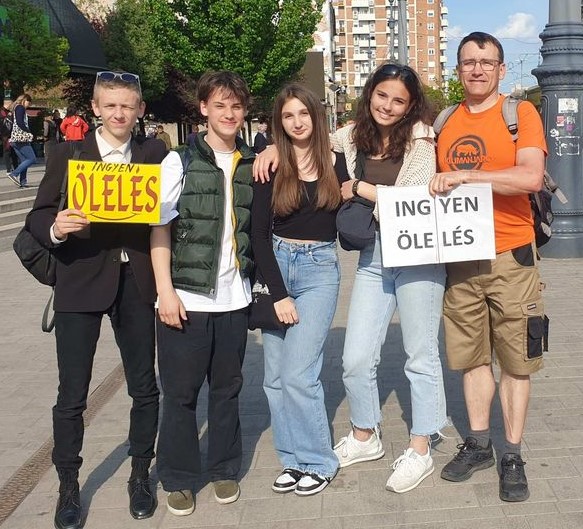 June 2023 – Global Hugs Weekend
🤗
Thank you, Mészáros László Rodrigó, for spreading free hugs in Miskolc, Hungary! Over the weekend, you and your amazing huggers received 500 hugs. Keep spreading the love! 💙✨ #GlobalHugs2023 #GlobalHugs #FreeHugs #LoveInAction
June 2023 – Global Hugs Weekend
Gail added 11 more hugs, hugging the residents at a North Carolina senior center. 
June 2023 – Global Hugs Weekend
Giuliana gave and received 60 hugs in Calgary, Alberta, Canada.
July 2023 – Global Hugs Weekend
Loretta
has joined me for Global Hugs in Key West, New Orleans, and now
Ataco, El Salvador!
She was with me for my first Embrace Your Life Tour, and we hugged in several locations in Croatia. 
Free hug signs that travel.
Everyone should have a Loretta in their life; I know I am forever grateful for her!